"The Truth about Salon & Spa Computer Systems"
A Free Guide
Introduction
Don't worry you are in safe hands, this is a fun and super simple guide to the truth about buying a computer system for your salon or spa.  Because this has information you may only find out after your purchase there are some companies that do not want you to read this. I try to give general advice in this report and I try to not be biased, but for some absolutely crucial things I must stress them to you. If you do have any questions I am always willing to answer them on the contacts below.
Why?
You want a computer system because it will save you time, do your paperwork for you and get you organized. With electronic marketing it will get your business to grow amazingly quickly by filling up those quiet days. That's great, but there are pitfalls and problems.  I hope this report helps you along the way; it is a collection of more than 10 years experience of computers and helping businesses' and allows you to be aware of the issues BEFORE you pay out the money.
Let's get some of the buzzwords out of the way so you are familiar with what you are buying.
Buzzwords
Hardware - anything you can touch
Software - anything you cannot touch and runs on the computers hardware. Sometimes known as the "system".
Support – Somebody who can help you, on the telephone or over e-mail or connect to your computer over the internet, to easily help you.
Setup – Somebody who can come to see you or connect to your computer over the internet to install your software and extras like a cash drawer.
Training – Someone to come to see you or connect to your computer over the
Internet to show you how to actually use the system.
Guilt-Packed "Free" Demonstrations
"You HAVE to buy it, we have come all this way to show you it" – OUCH!
Don't ever let anyone visit you unless you have actually SEEN the product FIRST.
Don't even give out your contact details.  Once they are in your home or business you will be made to feel awkward and in most cases bullied into signing up there and then……how horrible..…don't let it happen to you.
Pushy Sales People?
Imagine a busy day, imagine your phone ringing, and imagine how annoying it would be for that to be a pushy sales person who you almost have to hang up on to get rid of. You talk to them all the time trying to sell you something, and you just switch off, right? It's your choice, in your time; don't be bullied into making the wrong decision, if a company is not run with respectful sales people as your first contact, are they going to respect you when you need help and support? When something goes wrong? When you want your money back? It's YOUR choice in YOUR time and you should be respected.
The Delivery Date Con
Your Hardware delivery gets 'delayed'.  By the time it gets to you and you need help to set it up you are told that your free support time has expired and that you must take their support package in order for them to help you get setup – disgusting!  Call another reputable software company and they will get you setup free with nothing further to pay.  It is a bad sign of things to come from that outfit – Ditch em'.
The License Con
We have recently heard about a salon software company (lets call them whySalon) that have bought into another company with existing customers who had already paid for their software. Guess what? They are now saying that they have to keep on paying even though after 5 years of paying they thought they owned the software. Very nasty and underhanded, rather like your mortgage company saying "actually you have paid 25 years but need to keep paying or we take your house, sorry!".  Find another new company and ask about transferring your data over, they've probably done it before and it may be free.
(The above have now changed their name; but we can say they have an X in their name.)
The Tax Con
100% tax deductable! It's like those toothpaste adverts "I am not a dentist" – You need to talk to a professional accountant to find out if you can claim the tax back on the software. If you can it will probably be JUST the software and not the expensive help and support packages on offer.  Money is money and if someone says "you may as well have the best as you can claim it all against your tax bill" – This is fine but remember if the government changes their policy on tax and software you are the one STILL paying the bill!
 Easy to use?
Everyone says this, everyone, but take a look, does it look easy to use? Are there ANY screen shots of the system on the website? Remember you are using the system daily, it needs to be genuinely easy, not just after 2 days of expensive training.  As you look at a screen shot think about training the new employee in the system that you see? Would you like to be keeping your customers waiting while you scratch your head because you forgot which button to press?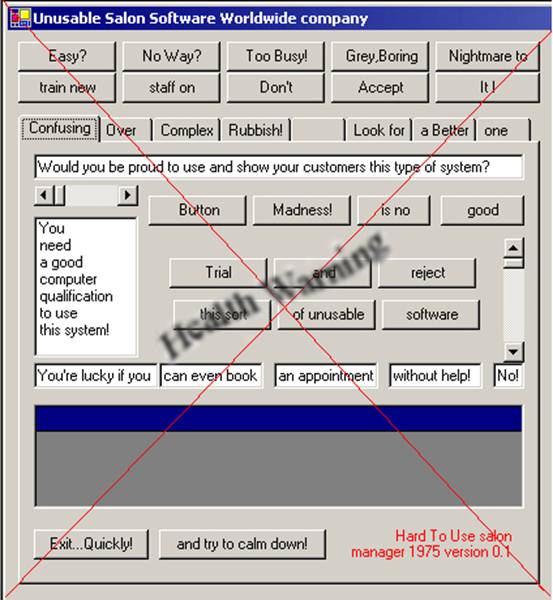 Take a look in your local "chain" coffee shop or big store for the system they use. They cannot have people waiting, they use touch screens, they have systems built specially for touch screens and they're professional businesses that value customer service.  They also have high staff turnover so training is an issue, which is why they have excellent and easy to use systems.
Price
The big question! The main warning with price is you really do get what you pay for, but, only up to a point.  The very cheap software is attractive, but many people buy and then find it too difficult to use, with no support or help, then you have to start looking again and end up spending out, again.  If it's cheap or very cheap you just don't get the support because you have not paid for it, and you need the support! (See "free trial" section below)
On the other side, beware of the very large companies that advertise widely, some even produce their own magazines! This costs a huge amount of money. Who pays for all that? Hmmmm…. It is you when you buy their over inflated software system!
Just don't accept that, you are paying way over the odds and you are directly paying for someone else's expensive trade shows, expensive sales people, expensive cars and expensive hotels and flights! 
Don't let them get away with the price is 'about' X amount – get it in writing. In short the price you see is not the price you pay with all the hidden costs.
Very Cheap Software!
We have all bought something that was too good to be true, I have, and it always turns out to be a mistake, very cheap software = bad idea.  What is missing; think about if anyone is there for you when it goes wrong or just if you have a question. If you know computers, great, save some money, if not you need a system that literally is Childs play and its worth spending a little bit more for it.  Beware of companies that lock you into their support and their computer hardware. You will save a huge amount of money by buying from your local computer shop instead of their over inflated prices….don't do it!  Don't accept the rip offs.
Hidden Setup Costs and Must Have Costs
Read the small print. Always. Ask if there is anything else that you MUST have and MUST pay for ahead of making your decision.
The price looks great. Is it all you have to pay? Ask. Remember if it looks too good to be true, it always is.  Once you decide on your system do you have to pay for setup? Do you have to pay for training? Do you have to pay for telephone support? Do you have to pay for e-mail support? Do you have to buy their computer hardware? Ask. There is always some catch. You can end up paying 3 times what you originally thought.
Online (web browser-page based) versus Windows based
"The company we had our customer database with went bust, it was all on-line and we lost everything. I don't like to talk about it now." - Andrea Thomas, London. We can put you in touch if you need to be more convinced.
What you will be told; "We do your data backups for you" and "Your customers can book appointments 24/7", these are the main selling points. Think about this; would you trust anyone else to do your backups? I wouldn't! All good Windows based software will have an internet booking system as standard.   Further to this, more important than anything, if your internet connection stops working then so does your business you cannot see who is coming in or their history. Just not worth the risk.
Old and Out Of Warranty Hardware
Advertisement: "A Full System for 999 including a Computer, Screen, Software and extras, originally costing over 5000".  Great sign me up I am saving a fortune! No wait; let us think for a second. Is that a touch screen? What if this equipment goes wrong? All that money you saved goes down the pan.  If they will guarantee the equipment for a year or more fantastic but remember that new hardware for EPOS mostly has a 2/3 years return to base repair warranty.  You could end up having to buy that new equipment anyhow over say that same 2/3 year period if the second hand kit breaks on you!
Not such a fantastic deal really is it?
The thing to also bear in mind is that buying the hardware direct from a supplier and not via the software company can drastically cut that 5000 down as 'they' always make 100+% commission on. For about 800 you can get all that equipment brand new anyway but only directly from a hardware supplier! Finally, it's going to be cheap and nasty software meaning expensive training and confused and frustrated new staff!
Update: We have just heard that someone who bought one of these from, lets call them "Salon Retreat", did indeed get a cut-down version and now with the need for more "advance"d features like electronic marketing is being told that it will cost them 25 per week for an upgrade to a decently-featured version.
Terrible; clearly cheap has become expensive with this trick!
Testimonials
Do not believe all you read! Anyone could have written a testimonial and popped it on a website or sales letter.  Look it up and see if the salon exists, call them on a quiet day, ask how the system is working for them and if they are well supported, then you will know.  If the testimonial is provided with a picture of the salon with an employee actually using the system on screen, it is much more likely to be true. 
A quote from "David from London" or "Diane from USA" written at the bottom is no proof that it is a real testimonial or that it is sold so widely.
We have more than 10,000 Customers!
A classic marketing trick; don't believe it.  There is no proof other than talking to someone who uses it, see if they are happy, will recommend it and the support service, visit if possible, talk to the staff using it!
I want to store customer details/replace my messy paper cards!
Some cheap systems will do just this and maybe this will be great for you.
Good systems will reduce features down and reduce the cost to you at the same time.  This means you could start with just the basics you feel you need and expand in your own time without paying for the stuff you don't use! You should be able to just start with replacing your paper cards, and then replace your paper daybook.
As more salons use electronic marketing you would not want to get left behind. Always think to your future and invest the proper amount in it.  Imagine how impressed your customers would be with reminders of appointments on their mobile cell phone or e-mail, or a "thank you" message after they have been in.  They will show their friends who will become your customers just so they can show their friends!  The best systems do this totally automatically, no more busy phones and wasted time while you remind people about appointments.
Get Broadband it will save you money
Put simply, if your system provider "cannot" connect to your computer from their offices to solve problems, or just to show you how to do something, it is going to cost you money.  Visits are likely to cost you money; if you get broadband it will save you money from the start because you won't have expensive people visiting you. If you are told you must have someone visit and it is going to cost you, say no, it's really unacceptable.
Free Trials are great, always use them!
You will be using the system daily; it's got to be easy and simple. A free trial will let you know instantly if you can use a system. You should be able to be using it very quickly without being scared!  Always do a trial first; even before you give out your phone number, in the modern world if they do not have a free trial you can get from the internet then, simply put, they have something to hide.  Why would they not want you to see their great and easy to use software? Because it isn't easy to use or it needs some very expensive basic setup.
Automatic reminders of appointments (two-way?)
Your simple software should allow totally automatic reminders of appointments to be sent out the day before all customers appointments.  I do mean totally automatic, you don't click or open or do anything, the computer should do it in the background, and you don't have to think about it, you simply remove your no-show % without even trying.  The best systems have two-way reminders (or 2 way) meaning that the customer can reply to the message from their mobile. If they say 'No I cannot make it' – the software should e-mail you and turn the appointment a different colour; so you know you can release the appointment time for another customer.
Touch screen systems are highly recommended to impress!
Get them, it will allow you to check out your customers faster, they require less training and mostly you don't have to fiddle with the computer mouse, which is slow.
They are also impressive for your customers to see and don't cost that much more.
Be aware that for a good touch screen systems to work well, you need good software to run on the computer, software that has been specially designed for touch screen systems.
What do I need to run an electronic daybook?
Is a week book handy?
The free trial should reveal all, but make sure you get the daybook as not all systems have the daybook. A week book is also very helpful, for example, if someone asks for time off you can see how busy the week is very easily.  With a daybook and touch screen you can move appointments by touching the screen and dragging the appointment to the new time or employee, making it dead easy, no more messy pencil marks and erasers.
Marketing with E-mail and SMS Text Messages
You don't have to have quiet days anymore, if you get each of your customers postal addresses, e-mail and Mobile Cell phone numbers you have a great deal of flexibility to market to them very easily in future.  Your salon software should allow you to easily target different customer groups also, for example, you should be able to target all men under 30 who usually have a back wax and send them a text message on your quiet days.
Help and Support
Watch out for the companies that can charge an obscene amount on a per call basis just to help you, also ask them if there are any limits of calls per month under the agreement you are paying for, you should get 30 days completely free help as a minimum.  You should get 4 or 5 calls a month (1 a week) as part of the support plan and unlimited e-mail help as standard.
You may be sold a cheap system from the start, but you can really spend a lot of money on the forced support that is absolutely needed on over complex systems.  Getting a
Continued…
simple, well put together system up front will cost more but will save you money and frustration very quickly.
If you cannot get through on the phone, always leave a telephone message and if you have left one before with the same issue, say that on the message and that no-one has contacted you back. Especially if you do leave a message on the phone do also E-Mail the same message to the support department to back it up and again say you have not had a reply.  This covers you twice and at least one method should get you a response!
Then make sure you check your e-mail for a reply before getting mad!
Setup
The very best systems will set themselves up automatically based on how you use it, the first time you will show it how long a service would take to do and next time it remembers – saving you loads of time. To have someone visit you to set this up can be very costly – This is no longer acceptable – Get a system that learns and save money.
As with training (below) you should be able to do this yourself for free, or at least your salon software provider should be able to connect over the internet and set you up, again for free, even using a computer you have bought.  It is not necessary to visit you at an expense if you get a broadband internet connection.
You could literally pay for 2 to 3 years of broadband internet costs by not paying for setup and getting them to do it over the internet for free, this should be provided.
Training
This can get expensive; as you are paying for a dedicated trainer to come out to your salon. You might want this and you might have the budget for it, if you do, this is the best money you can spend, and get as many people in as possible so many people can help you in future if you forget.  Before you pay, ask if they do a free training DVD and look for free training\demonstrations over the internet instead, they should be able to do these and it will save you a lot of money.
Get out from a bad provider! Money Back offers!
You should be able to give a months notice, it seems fair that if you are not happy you should be able to cancel with 30 days notice.  There are currently two companies giving 12 month money back offers. In practice to get this refund you would need to be writing in a book all the problems you had and not simply decide after 12 months that enough is enough.  Even if you got the money from the lease or purchase of the software this would not include a refund of the computer hardware.  Keep a diary of issues and how quickly they got solved from the very start.
Is your information stuck in a bad system?
If you have trouble with your existing salon software provider and are looking to move, but feel trapped, your information might be able to be moved to your new system, ask about this service.
A lot of salon software companies will take your suppliers product list and get it into your new system, if they cannot they are not very good at all!  This should also be free and a condition of the purchase/lease. Ask!
Systems sold outside of their native country
Watch out when you are told about free telephone support, that's fine if you are actually IN the country that provides it, if not, it might start to cost you a lot to be on hold!
Ask. E-mails get answered slowly if they are asleep still when you send it!
Leasing expensive computer hardware?
Don't do this! Any modern system should run fine on a very basic computer you can purchase from your local computer shop on a shoe string budget.  The main reason is that 12 months down the line it is really not worth even half of what you are still paying for it. You will also be paying well over the odds for it. If you are told you must buy a certain system get on the phone to someone else, it's not true, or at least you do have other options. I would advise you to buy receipt printers, hand scanners and cash drawers as, and when, you can afford them, a good system should allow this slow expansion.
I would also advise you to get extended warranty on all hardware because if it goes wrong it's someone else's cost and not yours.
A Printer and Ink
Buy a printer, even a cheap black and white one will do, it does not need to be colour.  A Canon is a good make and great quality.  Get to your local ink refill shop and save money too.  A good system should allow you to print out your electronic daybook for the next day along with customer contact details.  You should do this before you go home the night before, this will protect you from fire, theft or even just your computer stopping working.  You will then have the information you need to carry on the next day while it is fixed.
Are Laptops a good idea for salon front desks?
Laptops are your most flexible way of working, but due to their portable nature your local thief could make it a little too portable and grab it from your front desk.  I think all laptops have a little security ring that you can actually lock it to the desk. Do this or you could loose it very quickly, also keep it out of immediate sight by having it down on a desk not up on the desk.  As another note, a desktop will perform your tasks faster than a laptop when compared purely on how much money you are spending. Laptops are much cheaper these days and so it is a flexible way to save money as you do not have to have a "home" version of the salon software, you just have one laptop that stays with you 24 hours.
Get a recommendation
As with all things, there are no guarantees, but by getting a recommendation from a friend or website chat forum you are at least getting half way to knowing that the service has been good for someone else. This is obviously better than a blind and random selection.  Ask if you can talk to an existing salon owner who runs the system, then ask them how good the support is and how fast your problems are dealt with.
I have a few businesses, it gets expensive doesn't it?
You may have lots of complicated choices here with some providers, involving hugely over inflated costs for "enterprise" versions.  You are basically being sold the same version but because they know you have more of a budget they are inflating things (to put it nicely). In fairness, you should only pay one license for each salon computer. In fairness to the provider and team you should pay for any setup of "networking" or connecting each of your computers together, this is acceptable as it is a specialized job. Either way this is hugely cheaper than the inflated cost of "enterprise" versions.
Keep shopping around!
As a final word if they allow site-licenses, ask about costs of fixing broken computers with the software on because if you install 5 and they break you'll have to pay the repair.
Viruses!
You need to buy anti-virus software with your computer hardware, ask you local computer shop, if your software provider does not insist on you having anti-virus, something is wrong, you must always have anti virus software installed. The brand matters very little, they will all protect you to a degree and so are essential to have.
Backups!
Your information is vital; there might be 3 or more months' worth of future appointments in your system, if customers are not reminded about them they might be forgotten.  Your salon software should automatically backup your information at least once a day.  The good ones will do it every time you close the software down for the night so you know it is safe.  Ask you local computer shop for a "USB Pen Drive" and put your backup on this and take it home each night for safe keeping.  The very best systems out there will e-mail your backup to you nightly for free. Ask.
Get a power surge protector! (Crucial)
If you get an electricity power surge for some reason it can destroy your computer, this happened to me and I was not happy.  You would not be happy arriving in the morning if it happens.  It plugs into your normal electric socket on the wall and then you plug your computer into the surge protector.  If there is a power surge this will just shut off and not let the electricity overload your computer. Ask your local computer or electrical shop for one, the cheapest will do. The more expensive ones can also protect your phone line which is probably well worth having as this is the main way customers contact you! Ask.
Latest Technology?
Salon software can run on different computers from different manufacturers.
Salon software can be created in many different technologies and at the time of writing there is only one written in the latest Microsoft technology called .Net (pronounced DOT NET) version 3.5 released in 2008 with a 2008 reports engine.
The older the technology used to create the salon software the harder it is to add new features; this is why many do not have advanced features like SMS-Mobile text message marketing.  It is simply too hard to create in the old technologies.  Looking forwards, by getting a salon system that is written using the very latest technologies is a good way to future-proof you for whatever is next.
DOS based – generally a black screen with white or green letters, no nice pictures and very cheap to buy, please steer away from these, they are out of date and possibly unstable.
Microsoft Windows – The most common operating system on a computer, you probably have Windows XP, Windows 7 or Vista setup on the computer you are reading this on.  It is also the most popular operating system for running salon software.
Apple Mac – This is a solid system and some say more stable than Windows but due to it being less popular you might spend more money on someone to support the actual hardware and the operating system, which is aside from your salon software costs.  Currently I know of only one salon software that uses the Apple Mac.
In Summary
Buying the right, genuinely easy to use system is difficult;
You want a computer because it will save you time and get you organized with paperwork and help with running your very busy day.
You need to compete with the salons in the area, which means you need to promote your business using e-mail, text messages and personal letters.  This needs to be fast and easy, if you do it yourself with a mobile phone and your paper customer cards, it will work but will take an age, get the computer to do things for you and take it easy. 
You will then compete and in most cases beat the competition in the area.
Thanks for reading, I hope it helps.
We are always here to help with our own super-simple salon software
It is very well thought-out and we wrote it ourselves.
Our Software is called "Platinum" and it will change your salon life!
Worldwide - Call Me Back Please?
www.xpectworld.net/Contact/PlatinumContactMe.html
0121 288 0836 from UK
+44 845 680 0019 from Europe
0011 44 845 680 0019 from Australia
011 44 845 680 0019 from USA
Please get permission to reproduce.
Please pass this report on - it must be unchanged and free.